Based out of Seattle, the last decade has seen Luau Cinder build a reputation of unique live shows that peak with improvisational energy. No two shows are ever the same with a vast musical repertoire of original tunes and a few choice covers to throw into the mix.
Vocals, Guitar / Lance Irven
Bass / Brandon Thompson
Drums / Jeff Helmick
Congas / Paul Scheifen
Percussion / Randy Pomeroy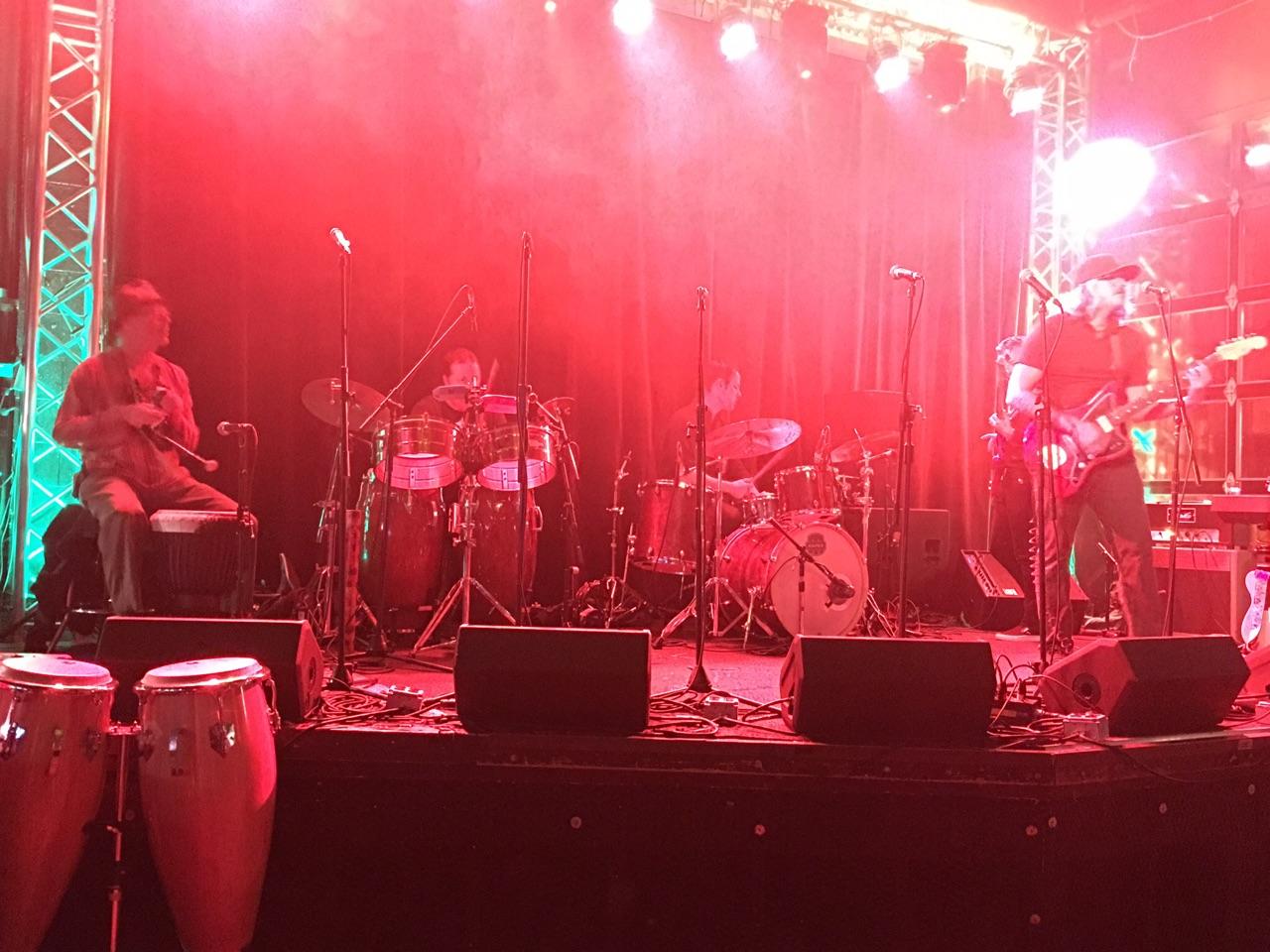 LUAU CINDER has played with many great bands at many great venues over the last 15 years including;
Les Claypool, Dirty Dozen Brass Band, The Itals, Karl Denson, Carlos Washington, Clinton Fearon, Signal Path.
Wilma Theater & Top Hat Missoula. Buffalo Chip Main Stage Sturgis. Boom Boom Room SF. Nectar & Royal Room Seattle.
Quixote's True Blue % Cervantes Masterpiece Denver. Sundance Film Fest Park City. Siren's Port Townsend. Ect...
News & Updates
Spring/Summer Shows: After a 6 month hiatus LUAU CINDER is coming back stronger than ever with new songs and choice new covers. There won't be as many shows this year so catch us while you can. Probably only 20 isntead of 40 so we'll make them count!
Luau Cinder is currently in the studio recording the next full length album! Update: Album coming out this Spring/ Summer. Going to be well worth the wait!
Meet the band
The current lineup of talented musicians are as follows:
Lance Irven - Guitar, Vocals
Started writing songs for what became Luau Cinder over 15 years ago. Forming from a stew of the psychedelic Missoula underground music and arts scene with a group of like minded friends. Continually booking more shows and writing new music all these years later, with the help of many great friends and musicians along the way. Big thanks from the Birdman to the Talley Bros, Jdawg, Catfish, Will, Grasshopper, Jammy Juan, Fil, Max, and Weirzbicki for helping in various ways through the years to keep this ball rolling!
Jeff Helmick - Drums, vocals
A mystic of rhythm and groove. Jeff helps drive the train and steer it in the direction that always best serves the band. An improvisational prowess with the finesse to slide into the finest dub grooves. Also an accomplished singer, songwriter and guitar player with his own band The Big Average. The stage is always in good hands with the salesman behind the kit!
Brandon Thompson - bass
Lives on his sailboat, makes some of the best pizza you've ever had and holds down the fattest bottom end this side of the Mississippi. Brando has been around the Luau Cinder camp for a long time now. Creating a solid groove for our group minded improvisation, he always knows where we should be setting course. This pirate will make you want to shake your booty!
Randy "Mountainclimber" -Percussion
A master percussionist who has traveled the world learning and teaching new rhythms techniques and instruments. Randy will bring a host of drums and a bag of full of tricks. With extra shakers for the kids or willing audience participents, you might find yourself jamming with the band! Be it leading you to the top of Mt. Everest or the peak of an extraordinary jam he always knows where to be in the mix.
Paul Scheifen - congas
An incredible producer and live sound engineer, as well as playing congas and extra percussion live with Luau Cinder. Paul is a man of many talents, we are lucky to have him on board. Able to integrate sythsesizers, Rhodes, triggers and looping, the future sonic palate of the band is only getting richer and more diverse. Expect Paul to brew up some fresh funky new tunes and live releases from the studio as well as that high grade organic lavendar oil he's famous for!
Roadie Tony - get's it done
Rain or shine, whether it's loading in, loading out or soundchecking the guitar so we can make adjustments to levels in the venue. Tony is the man for the job. Most of the time he's accompanied by his better half Mollie, who always brings extra hulu hoops to get the crowd movin' and shakin'!
Rig Rundown
Ever wounder what makes that sound? Here's a rundown of the gear that creates Luau Cinder music
Book luau cinder to play...
We can be reached for press inquiries, booking for venues, festivals, private parties, and weddings @ 406.531.0245 or luaucindermusic@yahoo.com